UNANG YUGTO: DISENYO NG TANKE AT FILTER SYSTEM
Narito ang pagsasalarawan ng itsura ng tanke at filter system
Pag-aralan kung paano idenisenyo ang tankeng ito.
Top View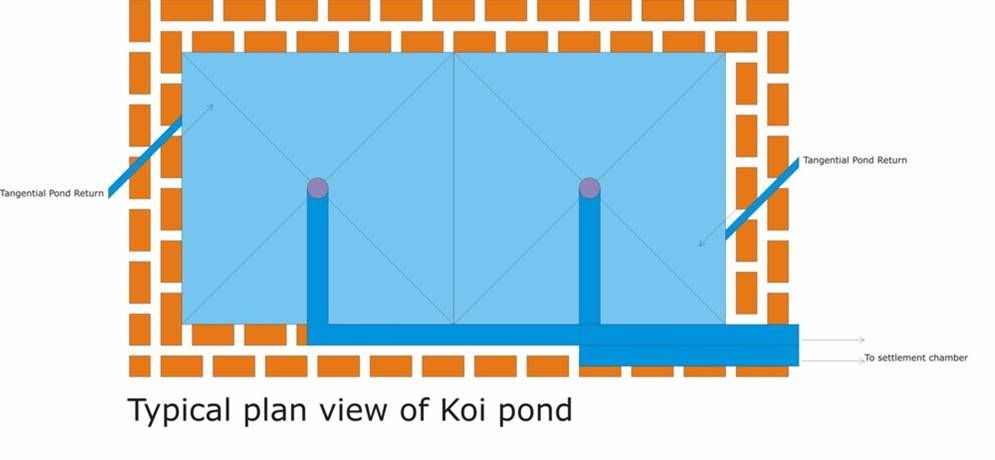 Side View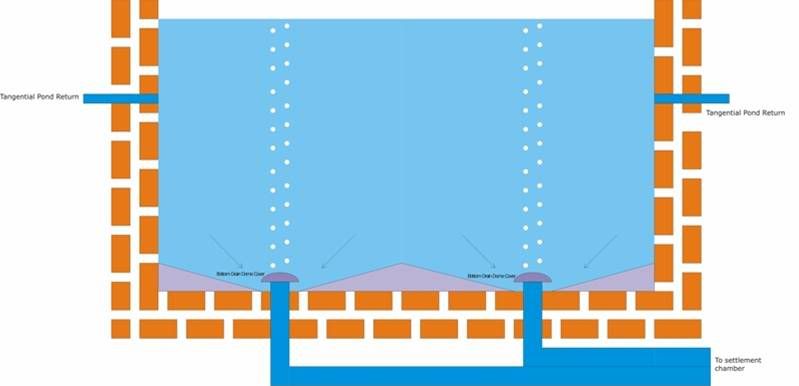 Constructing a pond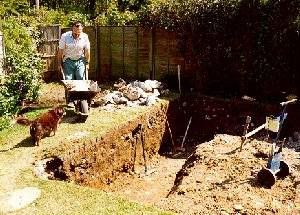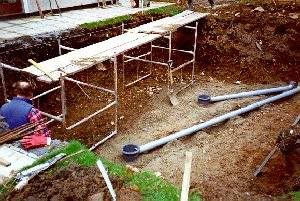 Picture of where to locate a pond bottom drain
Dami ng bottom drain pipe:
A rule of thumb is one bottom drain for the first 15 000l and then one drain for every 10 000 - 15 000 l thereafter. Of course, the size of your pond will have a lot to do with this - as will the flow rate you want through your filter systems. If you turn your pond water over every two hours, and the size is 50 000l you will need 25 000l per hour coming from your bottom drains.
II: A Filter system design: Side View

Settlement Chamber / Tiningan
Litrato ng filter system base sa disenyo sa itaas: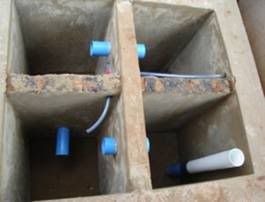 Note that the white pipe is the stand pipe for the settlement chamber. So bottom right is the settelement chamber flowing to bottom left which is where mechanical filtration takes place. Then the third chamber which is a bio-filter chamber - top left - feeds the last chamber (top right) which is where the pump sucks clean water to return to the pond.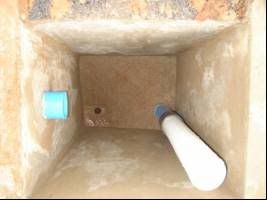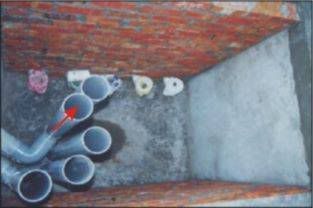 Pond water will flow from the bottom drains of the pond up the pipes in the direction of the red arrow as shown.
An ideal settlement chamber will be sloped from shallow to deep. The bottom drains will all face upwards and be located in the deep end of the settlement chamber, whilst at the opposite side on the shallow end of the chamber the exit pipe that feeds the primary mechanical filter stage will be located.
Being located higher than the bottom drain pipes increases the likelihood of the solids entering into the settlement chamber being collected in the deep end.
And YES, this does mean you need a waste flush valve located somewhere near the deep end of the settlement chamber so that you can flush all these nasty solids straight out and off to waste.
BUT:
If the waste valve on the settlement chamber is open, the water from the pond will simply continue to pour into the chamber from the bottom drains...
Yes, it will. Unless you block these pipes off it will not be possible to empty the settlement chamber without having the bottom drain pipes filling it continually. This is an important point to keep in mind!
Now, can you see why we want the bottom drains facing upwards?
You can block these off very easily using what is called a stand pipe. This is simply a long pipe that 'stand's inside the bottom drain pipe - it needs to be a flush fit to work properly - your Koi pond builder will know how to do this. So if you have 5 bottom drains, you will need five 'stand pipes'.
With the stand pipes in place, you can empty the settlement chamber. This allows you to get rid of all the muck in the chamber quite easily as it flushes out along with the water in the chamber.
Removing the stand pipes has an interesting effect. Because the chamber is now empty, water will literally rush in from the pond through the bottom drain pipes, at a rapid rate indeed. This sudden surge of water through the bottom drain pipes has the effect of a mini flood, sucking all the solid debris in the pipe with tremendous force and depositing it into the settlement chamber from where it can be flushed to waste. Voila! Settlement chamber is cleaned, and the bottom drain pipework is also purged of excess solid waste.
FILTER SYSTEM PARA SA MGA BAGUHAN.
Ang sumusunod ang nagpapaliwanag kung anong dapat ilagay sa bawat chamber ng filter system at mga alternatibong gamit na matatagpuan sa mga rural na lugar.
1
) As you can see Ammonia is produced by a) fish respiration, excretion and constant urinating. b) plants decomposing c) excess food (this is the biggest contributer).

so the next steps are done by the process of our filters.
IKALAWANG KUWARTO: MECHANICAL FILTERS:

Pagkatapos dumaan sa settlement chambers ang sunod naman ay ang mechanical filters:(ang artikulo ukol sa settlement chambers ay sa ibang post)

2) Within this chamber we have brushes and/or nets. We need to get rid of some of these ammonia producing particles. So we have a mechanical filter. This will catch excretion and waste food and also parts of decomposing plants. At this stage Ammonia will still be present in the water. Please note that Ammonia is highly toxic, even in small concentrations.

Maaari ring gamitin ang nga sumusunod na bagay: graba, bunot ng niyog, Uling (wag pipinuhin) Seashells Atbp na puwedeng gawing salaan siguraduhin lang na walang lason ito.
Tandaan: mas makabubuting lagyan din ito ng drain pipe na may valve upang madali ang paglilinins at madaling tanggalin ang mga duming nakatambak:

Tandaan: isupot sa mga netbags ang mga bagay na ilalagay sa chamber na ito, sa ganitong paraan madali ang paglilinis.

IKATLONG KUWARTO : BIOFILTERS:
3) The next stage is the bio filter. This will consist of Flocor, Stinted glass, Japanese matting etc. the higher the surface area, the better. This filter must be covered to protect from sunlight. Within this filter and on the filter media live bacteria called Nitrosomonas. These bacteria are aerobic which means they require oxygen to survive. So it is essential that you provide these guys with as much Oxygen as possible via an airline (i.e air pump with air stone). They also need food, their favourite food is Ammonia. So, by eating Ammonia (NH3) and breathing Oxygen (O2), they excrete Nitrite (NO2).

Also within this filter chamber you will have bacteria called Nitrobacter. These guys are also aerobic so they also need a constant supply of oxygen. Unlike the Nitrosomonas, the Nitobacter eat Nitrite, they excrete Nitrates.

Mga alternatibong gamit: coconut shells, bao, balat ng kahoy(barks), oyster shells,
ganito ang itsura ng magandang medium sa pagpapalago ng bakterya sa bio filter. Kung may makikita na bagay na nakakahawig nito ang disenyo mas maganda.
Kung gagamit ng bao o kahoy, kailangang palitan ito minsan sa isang taon.At hindi sabay sabay ang pagpapalit.!!!! Alalahanin ang mga bakteryang nandito. Ito ay kailangang hindi naaarawan, may taklob lagi.
Ang biofilter ay hindi nililinis, hindi hinuhugasan mas maigi na paminsan-minsan ito ay pinapahanginan sa pamamagitan ng air pump upang maging optimal ang buhay ng bacteria dito.
Sa unang pag-setset up nito, kailangan lagyan ng nitrifying bacteria ang chamber na ito. Ito ay mabibili sa mga aquarium shops, upang mas madali ang pagdami ng bakteryang ito, partikular na ang bakteryang Nitrobacter. Pagkatapos dumadami na ito ng kusa.
Puwede ring magtanong sa may mga fish pond na may bio filter, dito maaari ring manghiram ng ilang medium na puwedeng ilagay sa chamber na ito, sa loob ng 2-4 na linggo ay gumagana na ang sariling bio-filter.
IKAAPAT NA KUWARTO: PUMP CHAMBER

5) The next chamber should be a pump chamber or a vegetation chamber. We know now that the main element in this chamber will be Nitrates. So we need to get rid of these.

5a) If this is a pump chamber then this will consist of some sort of PH buffer material (in netted sacks) i.e. Coral chips, Oyster shells etc. and your pump(s). From here you have two options: a) You need to pump the water back to the pond via a waterfall that consist of plants. These plants use Nitrates as a form of fertiliser, and in return they supply that water with Oxygen. b) You need to pump this water back to the pond, but some of this water should be diverted via a trickle tower which will remove Nitrates from the water.

5b) If this is a vegetation chamber, unlike the other chambers, this should not be covered as most plants need sunlight to live. In here you need water plants that produce lots of leaves. The more leaves the better. I would recommend that at the exit of this chamber you have another row of brushes or netting, to stop large particles of debris feeding back into your pumps. This chamber will eat the Nitrates and produce oxygen. After this chamber you should have your pump chamber, see section 5a) for more info.
Ang pinakahuli ay ang tinatawag na pump chamber maaaring lagyan ng halamang nabubuhay sa tubig. i.e gabi, sa ganitong paraan mababawasan ang nitrate concentrate na bumabalik sa fish pond. Puwede rin naman lagyan ng talaba, or sea shells
at panghuling tip upang madaling maglinis sakali mang lilinis ito:

Each chamber should have at least one 2-4in. drain outlet with standpipe. This is to facilitate removal of accumulated debris during filter maintenance.